Microsoft Excel Training Courses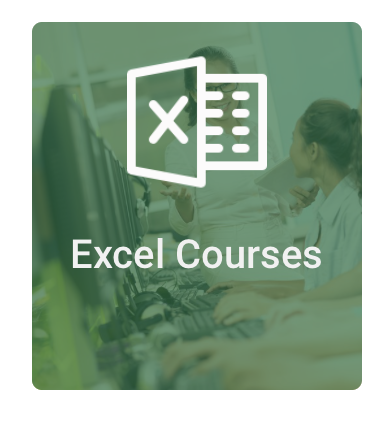 At Mouse Training we offer a range of Microsoft Excel training courses in London or at your office. We provide Excel courses from beginner to advanced levels. Our Excel courses can be tailored to best suit your requirements and can be provided in a variety of delivery styles, including group bookings, public and 1-2-1, at your location or our comfortable and fully equipped London Training Centre.
All our Excel courses are hands-on, there is  plenty of time for experimenting with what you are being taught, trying things out for yourself and asking questions, reinforcing the concepts that you are being taught.
Excel Versions 
We provide courses for Pc, Apple and Mobile devices, versions of Excel including, Excel 2007, Excel 2010, Excel 2013, Excel 2016, Excel 365 and Excel 2019
Apple – Excel 2011, Excel 2016 and Excel 2019
Excel Certified Courses
As well as our standard courses we also provide Microsoft Office Specialist ( MOS ) and Continuing Professional Development ( CPD ) courses.
MOS – Microsoft Office Specialist – Get hired, demonstrate clear business impact, and advance your skills. With the Microsoft Office certification program, you can take your career to the next level. Read More 

Continuing Professional Development – CPD is recognised as important because it derives benefits to the individual, their profession and their customers / public.
Courses are certified by the CPD` assessment organisation will help you revise these aims. Read More
Excel 2016 there are two available courses, sitting either course it is possible to gain both CPD  and Microsoft Specialist accreditations. 
14 CPD point for each of the Excel courses, and those wishing to obtain Microsoft accreditation can  sit a 50 minute MOS exam. 
Courses Outlines – Excel Core 77-727 and Excel Expert 77-728
Microsoft Office Test Centre – exams can be taken at our London centre, from July 2016 exams can also be sat at client offices.
Coming Soon MOS 365 and MOS 2019 exams
Course Materials
All our training materials are published by two well know publishers CCL Learning and Velsoft
CCL Learning Manuals 
CCL Learning publish our Microsoft Office Specialist manuals titles include Access 2016, Word 2016 Core, Word 2016 Expert, Excel 2016 Core, Excel 2016 Expert, Outlook 2016 Core and PowerPoint 2016 Core, seven titles to collect.
These manuals can be purchase from ourselves as part of the official study MOS 2016 kit or manual only – you do not need to attend our courses to purchase these fantastic manuals.
Manuals for other Office versions are available – Office 2010 and 2013, soon to be released Office 2019 and office 365
Velsoft Materials
Velsoft publish a vast range of manuals, these manuals are available to all attending our courses, for group booking requiring tailored course outlines we can provide a tailored course manual.
Latest release – Microsoft Teams
Read more about our publishers – click on their logos below
Mouse Trainers
Our Microsoft Excel Training Courses in London are delivered by expert trainers in their field, they are Microsoft Certified Trainer ( MCTs ), demonstrating their in depth and detailed knowledge and understanding of this subjects area. Each has years of experience providing effective training.
Why Attend Training at our Training Venue
When attending our centre we provide everything you need for your day (s) with us in a comfortable relaxed atmosphere for training.
Refreshments available throughout the day
Complimentary lunch, normally including sandwiches, cakes, fruit, biscuits– we aim you do not go hungry
State of the art Computers – All matching, 23'' touch screen, all Microsoft Word version are available.
Laptops – Laptops are available for onsite courses.
High Speed internet up to 500 meg.
Air conditioned rooms.
Course Materials –
Full access to our extensive library of software manuals included in the price.
Stationery – Pens and notebooks supplied
Certificates – Course attendance certificates.
Recognised Examinations – Microsoft Office specialist MOS examinations available for Excel.
If you have any questions or wish to discuss options please don't hesitate to contact us..
Excel Introduction Level – Advanced Level Key Training Topics.
Introducing Excel, learn how Excel works, understand how to move within Excel, create a workbook, enter data into a worksheet and work with files.
Constructing Cell Data, learn how to make changes to data in the worksheets, change the structure, and addadd and remove worksheets in the workbook.
Using Formulas, learn about formulas – what they are,how they work, how to inser simple formulas and use built-in functions to create some formulas.
Formatting the worksheet, learn how to use a variety of methods to format cells in a worksheet to emphasize different worksheet areas.
Viewing and Printing Workbooks, learn how to change the views in preparation for printing worksheets, Print and preview worksheets and customise the page setup for printing.
Working with Charts and Graphics, you will learn to work with charts work with different types of graphics images including shapes and pictures.
Organising Data, you will will look at various methods of organising data to improve your ability to analyze it.
Using Data Tools, you will learn about a variety of Excel Data to include importing and exporting data between other applications, searching worksheets for a value, using hyperlinks, and making workbooks more accessible.
Advanced Formatting, you will learn to use some of the advanced formatting features in Excel
Advanced Functions And Formulas, you will learn how to use range names, use some of the more advanced functions in Excel, check for errors in your formulas, and use the data validation feature to improve the quality of the data in your workbooks.
Data Analysis Using Pivot Tables And Business Intelligence, you will learn how to use pivot tables and pivot charts. You will also learn how to use Power Pivot to extend the pivot tables and charts into large corporate databases.
Workbook Management Features, you will learn to demonstrate how to enable your workbook to work with other workbooks and with users other than just yourself.
Advanced Charts, Functions And What-If Analysis, you will learn to use advanced features with charts and functions, perform What-If Analysis, and use structured references.
Data Filtering, Macros, And Forms, in this lesson are to use various advanced Excel features that allow you to filter data, extend a data series by filling, and use form controls and macros. You will also learn how to create your own workbook templates and control formula iterative calculations.
Why is Microsoft Excel Popular
With over 750 million users worldwide, Excel is the tool of choice for presenting and analysing data. Having a good understanding of Excel is an essential key skill for any office worker today, it is the one application that the business world cannot live without.