Word 2016 Core Microsoft Office Specialist
Audience: On completion of the MOS 77-725 Word 2016 Core exam candidates will have a fundamental understanding of the Word environment and the ability to complete tasks independently. 
They will be able to demonstrate the principal features of Word 2016 by creating and editing documents which can include professional-looking reports, multi-column newsletters, résumés, and business correspondence.

Course Materials
All our Microsoft Office Specialist MOS training materials are published by  CCI Learning 
CCI Manuals 
Titles include Access 2016, Word 2016 Core, Word 2016 Expert, Excel 2016 Core, Excel 2016 Expert, Outlook 2016 Core and PowerPoint 2016 Core.
These manuals can either be purchased from ourselves as part of the official study MOS 2016 kit or you can buy the manual separately – you do not need to attend our courses to purchase these fantastic manuals.
Manuals for other Office versions are available – Office 2010, Office 2013, Office 2019 and Office 365
To purchase, please complete our order form – once your order has been received you will receive an order confirmation and invoice.

Vouchers: Our MOS exam vouchers includes a thirty day retake option.
Certification Guide: Spiral bound study manuals are Published by CCI Learning. Manual contents are separated into lessons, at completion of each lesson there is a summary and review questions.
Exam kit 77-725 includes an exam voucher with a thirty day retake option, Word Core Certification Guide and Gmetrix test prep – read more
Vouchers and Exam Kits rates includes exam test centre fees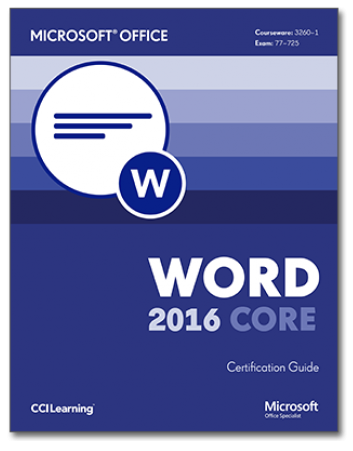 77-725 Word 2016 Core Exam Certification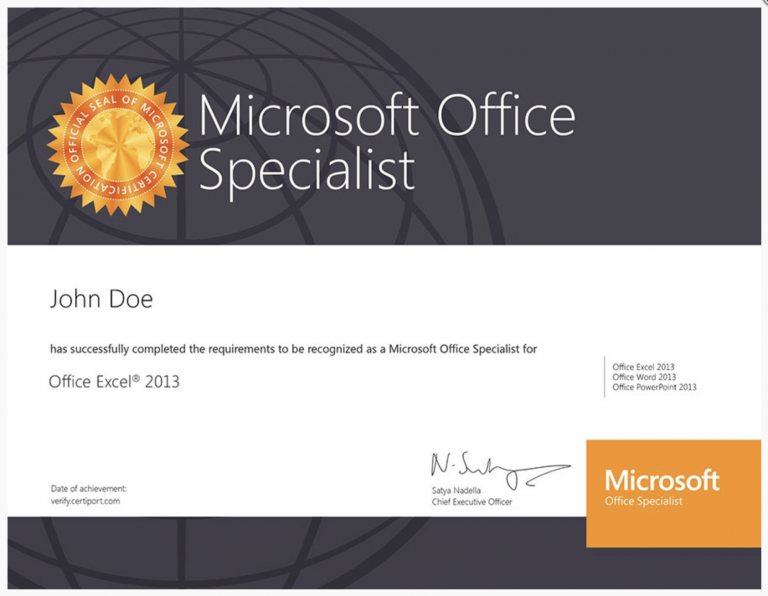 Mouse MOS Test Venue
You will need to sit your exam at an authorised test centre. Mouse Training London is a Microsoft Office MOS test centre and we are able to schedule your exam seven days a week. We accept exam vouchers either purchased from us or from other suppliers.
For group bookings, MOS testing is now available at your office, there is no need to attend our test centre.
77-725 Word 2016 Core Exam Course Outline
Accreditations Available: Microsoft Office Specialist & CPD 
Course Duration: 2/3 days, our three day course includes an option to sit the Word Core exam.
Course Types: Group bookings and 1-2-1 sessions
Course Location: This Microsoft Word Specialist Core 77-725 training course can be delivered either at our London training venue or at your offices.
Create a Document
Create a blank document
Create a blank document using a template
Open a PDF in Word for editing
Insert text from a file or external source
Navigate Through a Document
Search for text
Insert hyperlinks
Create bookmarks
Move to a specific location or object in a document
Format a Document
Modify page setup
Apply document themes
Apply document style sets
Insert headers and footers
Insert page numbers
Format page background elements
Customize Options and Views for Documents
Change document views
Customise views by using zoom settings
Customise the Quick Access toolbar

 

Split the window
Add document properties
Show or hide formatting symbols
Print and Save Documents
Modify print settings
Save documents in alternative file formats
Print all or part of a document
Inspect a document for hidden properties or personal information
Inspect a document for accessibility issues
Inspect a document for compatibility issues
Insert Text and Paragraphs
Find and replace text
Cut, copy and paste text
Replace text by using AutoCorrect

 

Insert special characters
Format Text and Paragraphs
Apply font formatting
Apply formatting by using Format Painter
Set line and paragraph spacing and indentation
Clear formatting
Apply a text highlight colour to text selections
Apply built-in styles to text
Change text to WordArt
Order and Group Text and Paragraphs
Format text in multiple columns
Insert page, section, or column breaks
Change page setup options for a section
Create and Manage Tables 
Convert text to tables
Convert tables to text
Create a table by specifying rows and columns
Apply table styles
Modify a Table
Sort table data
Configure cell margins and spacing
Merge and split cells
Resize tables, rows, and columns
Split tables
Configure a repeating row header
Create and Modify a List

Create a numbered or bulleted list
Change bullet characters or number formats for a list level
Define a custom bullet character or number format
Increase or decrease list levels
Restart or continue list numbering
Set starting number value
Create and Manage Reference Markers
Insert footnotes and endnotes
Modify footnote and endnote properties
Create bibliography citation sources
Modify bibliography citation sources
Insert citations for bibliographies
Insert figure and table captions
Modify caption properties
Create and Manage Simple References
Insert a standard table of contents

 

Update a table of contents
Insert a cover page
Insert Graphic Elements
Insert shapes
Insert pictures
Insert a screen shot or screen clipping
Insert text boxes
Format Graphic Elements
Apply artistic effects
Apply picture effects
Remove picture backgrounds
Format objects
Apply a picture style
Wrap text around objects
Position objects
Add ALT text to objects for accessibility
Insert and Format SmartArt Graphics
Create a SmartArt graphic
Format a SmartArt graphic
Modify SmartArt graphic content
Further Accreditations – MOS Master
Microsoft Office Master 2016 masterfully use the basic and advanced features of Microsoft Office 2016 applications.
MOS 2016 Master is the highest MOS Certification.
MOS Masters demonstrate a broader and deeper expertise of Excel, Word, PowerPoint, and Access or Outlook. They have achieved an elite certificate which is respected and recognized worldwide.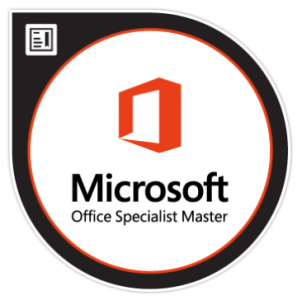 Required Courses for Office 2016 Master
Optional Courses for Office 2016 Master – Choose 1