Microsoft Word Training Courses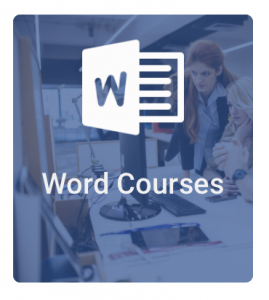 At Mouse Training we offer a range of Microsoft Word training courses in London or at your office. We provide Word courses from beginner to advanced levels. Our Word courses can be tailored to best suit your requirements and can be provided in a variety of delivery styles, including group bookings, public and 1-2-1, at your location or our comfortable and fully equipped London Training Centre.
All our Word courses are hands-on, there is  plenty of time for experimenting with what you are being taught, trying things out for yourself and asking questions, reinforcing the concepts that you are being taught.
Word Versions 
We provide courses for Pc, Apple and Mobile devices, versions of Word including, Word 2007, Word 2010, Word 2013, Word 2016, Word 365 and Word 2019
Apple – Word 2011, Word 2016 and Word 2019
Word Certified Courses
As well as our standard courses we also provide Microsoft Office Specialist ( MOS ) and Continuing Professional Development ( CPD ) courses.
MOS – Microsoft Office Specialist – Get hired, demonstrate clear business impact, and advance your skills. With the Microsoft Office certification program, you can take your career to the next level. Read More 

Continuing Professional Development – CPD is recognised as important because it derives benefits to the individual, their profession and their customers / public.
Courses are certified by the CPD` assessment organisation will help you revise these aims. Read More
Course Materials
All our training materials are published by two well know publishers CCL Learning and Velsoft
CCL Learning Manuals 
CCL Learning publish our Microsoft Office Specialist manuals titles include Access 2016, Word 2016 Core, Word 2016 Expert, Excel 2016 Core, Excel 2016 Expert, Outlook 2016 Core and PowerPoint 2016 Core, seven titles to collect.
These manuals can be purchase from ourselves as part of the official study MOS 2016 kit or manual only – you do not need to attend our courses to purchase these fantastic manuals.
Manuals for other Office versions are available – Office 2010 and 2013, soon to be released Office 2019 and office 365
Velsoft Materials
Velsoft publish a vast range of manuals, these manuals are available to all attending our courses, for group booking requiring tailored course outlines we can provide a tailored course manual.
Latest release – Microsoft Teams
Read more about our publishers – click on their logos below
Mouse Trainers
Our Microsoft Word Training Courses are delivered by expert trainers in their field, they are Microsoft Certified Trainer ( MCTs ), demonstrating their in depth and detailed knowledge and understanding of this subjects area. Each has years of experience providing effective training.
Why Attend Training at our Training Venue
When attending our centre we provide everything you need for your day (s) with us in a comfortable relaxed atmosphere for training.
Refreshments available throughout the day
Complimentary lunch, normally including sandwiches, cakes, fruit, biscuits– we aim you do not go hungry
State of the art Computers – All matching, 23'' touch screen, all Microsoft Word version are available.
Laptops – Laptops are available for onsite courses.
High Speed internet up to 500 meg.
Air conditioned rooms.
Course Materials –
Full access to our extensive library of software manuals included in the price.
Stationery – Pens and notebooks supplied
Certificates – Course attendance certificates.
If you have any questions or wish to discuss options please don't hesitate to contact us..
Microsoft Word Training Courses
Microsoft Word is the world's most popular word-processing application. Perfect for simple letter writing through to complex legal documents and marketing documents. In the hands of an experienced user it can quickly and simply produce the document that you want.
Being confident in Microsoft Word is essential for anyone who either works, or aspires to work, in an office environment, it's therefore very important to choose your training programme carefully. Get in touch and we can arrange the perfect course for you.
MOUSE'S Microsoft training courses take you on a journey from being a complete beginner through to an advanced user who will then be able to make full use of the application's capabilities and beyond.