Microsoft
MOS Excel
Expert 2019
Audience
This Microsoft Excel Expert 2019, certification demonstrates competency in creating, managing and distributing professional spreadsheets for a variety of specialised purposes and situations. The exam covers the ability to customise Excel environments to meet business needs and to enhance productivity. Expert workbook examples include custom templates, multiple-axis financial charts, amortisation tables and inventory schedules. Excel Expert exam vouchers are available from Mouse Training, you need to purchase a voucher before taking the exam.
An individual earning the MOS (Microsoft Office Specialist) certification has approximately 150 hours of instruction and hands-on experience with Excel 365/ Excel 2019 and has proven competency at an industry expert level. They can demonstrate the correct application of the principle features of Excel and can complete tasks independently.is
Microsoft Excel Expert 2019 Exams
Microsoft Office Specialist certification MOS Excel Expert exams use a performance-based format, testing a candidate's knowledge, skills and abilities using the Microsoft Excel 365 or Excel 2019 application.
Microsoft Office Specialist (MOS) exam task instructions generally do not include the command name. For example, function names are avoided and are replaced with descriptors. This means candidates must understand the purpose and common usage of the functionality in order to successfully complete the tasks in each of the projects.
The Microsoft Office Specialist MOS exam format incorporates multiple projects, as in previous versions, while using enhanced tools, functions, and features from the latest versions.

Course Materials
Our Excel Expert specialist training materials are published by CCI Learning.
CCI Manuals
Titles include Word Associate, Word Expert, Excel Associate, Excel Expert, Access Expert, PowerPoint, and Outlook Associate.
These manuals can be purchased from ourselves as part of the official study MOS Excel / Excel 2019 kit or you can buy the manual only – you do not need to attend our courses to purchase these fantastic manuals.
Manuals for other Office versions are available – Office 2010, 2013 and 2016.
Excel Expert Exam Vouchers
We can supply exam vouchers for Microsoft Excel Expert 2019 and they include a thirty day exam retake. You will not have to pay an exam administration fee when you purchase your exam voucher from Mouse Training.
To purchase please complete our voucher order form & self-study kit
Once your order has been received you will receive an order confirmation and invoice.

Vouchers: Our Excel Expert exam vouchers include a thirty day retake option.
Certification Guide: Spiral bound study manuals are Published by CCI Learning. Manual contents are separated into lessons, at completion of each lesson there is a summary and review questions.
Exam kit Microsoft Excel Expert includes, exam voucher with a thirty day retake option, Certification Guide and Gmetrix test prep – read more
Vouchers and Exam Kits rates include exam test centre fees.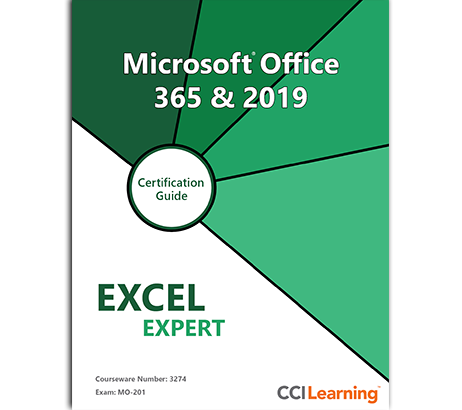 Microsoft MOS Excel Expert 2019 Exam Format
Microsoft Excel Expert 2019 Online Exams
Microsoft Excel Expert Online Exams. We schedule exams daily. Additional online dates can be scheduled on request, Monday to Saturday.
Requirements – PC or MAC, Web browser and Internet connection and an exam voucher. Excel Expert MOS exam vouchers order forms are available on our homepage
Before the exam – Photo ID driving licence or passport and Certiport registration, www.certiport.com
On Exam day – Before your exam you will be sent an exam link via email.
Exam Schedule – Online exam schedule is available on our homepage
Microsoft Excel Expert 2019 Exams In-Person
In-person exams are available at our admin office seven days a week, to book please call or email our team.
Microsoft Excel Expert 2019 Exam Certification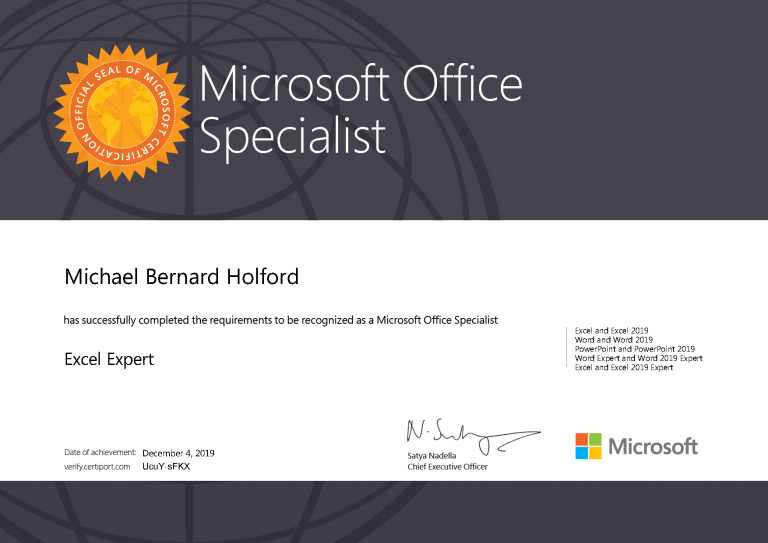 Mouse MOS Test Venue
You will need to sit your exam at an authorised test centre. Mouse Training London is a Microsoft Office MOS test centre and we can schedule your exam seven days a week. We accept exam vouchers either purchased from us or other other suppliers.
Testing available online (details) and at our centres.
To Schedule an Exam, please call 020 7920 9500
Microsoft Excel Expert 2019 Course Outline
Accreditation Available: Microsoft MOS Excel Expert 2019
Course Duration: 2/3 days, our three day course includes an option to sit the MOS Microsoft Excel Expert 2019
Course Types: Group bookings and 1-2-1 sessions
Course Location: This Microsoft Excel Expert 2019 exam training course can be delivered either at our London training venue or at your offices.
MOS Associate & Expert Accreditations
Required Courses for Microsoft Office Specialist Expert – Choose 2
Required Courses for Microsoft Office Specialist Associate – Choose 3