Switching from PC to
Apple Mac
Training Course
Switching from PC to Mac Training Course Overview
Our Switching from PC to Mac training course is ideal if you have or are thinking about switching to an Apple Mac. Over the past few years more and more people have been switching from a PC to Apple Mac.
An Apple Mac is very intuitive, but there are differences, some are obvious like the Recycle Bin and the Trash, others are not. Don't be like the rest and muddle your way though. With our Switching from PC to Apple Mac course you hit the ground running, as Apple like to say "It's awesome!"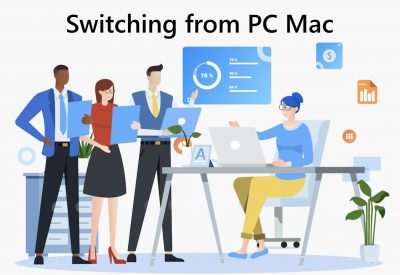 Switching from PC to Mac Five Key Topics
Working with files and folders
Managing the Dock
Handy Mac shortcut keys
Mac System Preferences
Running Windows applications on your Mac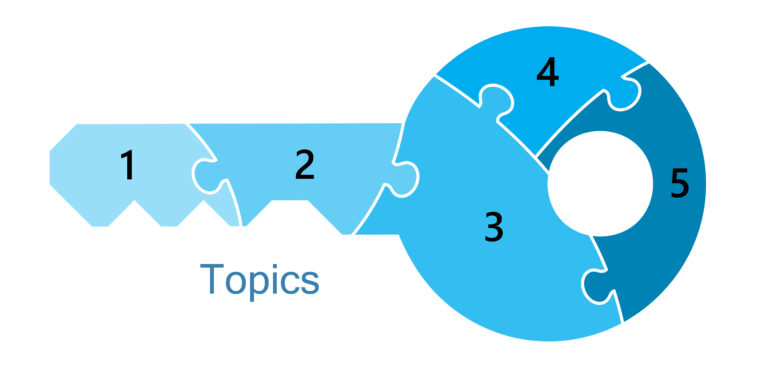 Course Duration : 1 day
Course Availability : Monday – Saturday
Course Types : Group booking, 1-2-1 sessions, Bespoke & Public Courses
Training Times : Our introduction Publisher courses run run from 09:30 to16:30, course registration 09:00 – 09:30, refreshments available throughout the day. A buffet lunch is available – please discuss with the team.
Facilities : A relaxed environment, air conditioned training rooms, note pads, pens and unlimited access to our online course materials.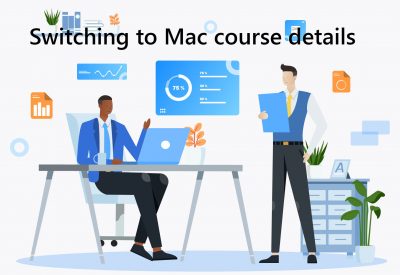 Switching from PC to Mac training course details
Course Location : Face to face group / public & onsite training available. Virtual training courses available.
Class Size : As a guide we recommend class sizes to be no more than eight.
Virtual / Online training Format : Teams or Zoom.
Tailored Course Content : Our Switching PC to Apple course can be tailored to your requirements – Get In Touch
Tailored Courses : We offer a free consultancy service to help tailor the course to meet your requirements.
Centre and Services
Comfortable & modern facilities
Unlimited access to our online training manuals
Complimentary lunch
Courses delivered by Certified Trainers
Microsoft & CPD courses available
Liz, one of our Apple Switching PC to Apple trainers, has over many years of delivering Apple Applications.
All our trainers are encouraged to become accredited within their first year of working at Mouse Training.
Our instructors are very approachable, making the driest subject matter fun.
On completion of Switching from PC to Mac Training Course
Use the Mac keyboard and mouse
Understand the Mac Interface
Work with Files and Folders on the Mac
Search files and folders
Work with Applications on the Mac
Move to your new Mac
Set Mac System Preferences
Work with Peripherals
Macs online
Use VM ware (PC software)
Use Boot Camp, Mission control, FaceTime and iChat
Switching from PC to Mac Training Course Outline
Is this Apple Switching PC to Apple Course for You?
Give us a call, our admin team will be delighted to assist in making sure you are on the correct course.